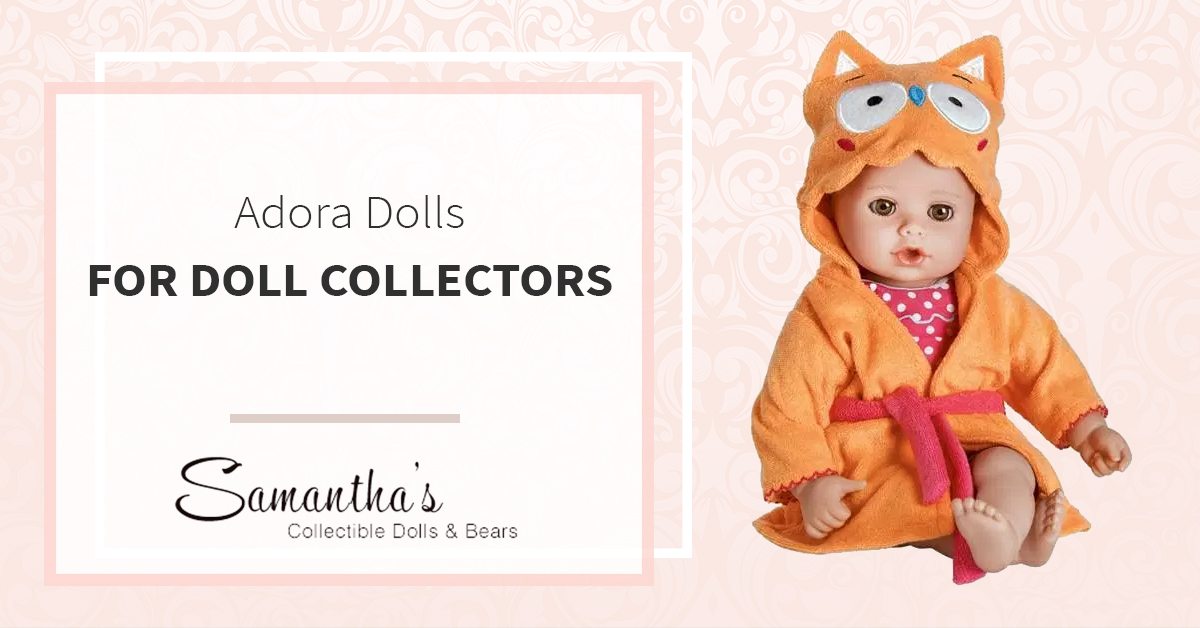 Are you searching for collectible dolls with a more fun, playful vibe? Each doll in the Adora Doll collection features a unique joie de vivre, and we absolutely adore these spunky collector items at Samantha's Collectible Dolls & Bears. If you aren't familiar with this line of unique dolls, let us introduce you to a few of our favorites.
This little bundle of joy is ready to sweat to some oldies in her captivating brown velour workout gear. With a flair for fashion, her matching brown pants and hooded sweatshirt are decorated with beautiful embroidered flowers and pink ruffles. Topping off her entire ensemble is her pink ruffled socks with a matching flower design. To add some extra flair to her workout gear, part of this spunky little girl's hair is tied using green gingham and pink ribbons.
Are you a fan of The Wizard of Oz? You'll love this adorable pint-sized toddler doll replication of the beloved machine man who longed for a heart. Unlike the real Tin Man, you won't need to oil this cute doll. Naturally, this little doll includes rivet-like buttons, hat shaped like a funnel, and even an embroidered heart.
Complete with red, white, and blue pom poms, this little cheerleader is as all-American as can be. Decked from head to toe in the colors of the American flag, this spunky toddler cheers her favorite team on with gusto. With sneakers, a pleated skirt, a chevron-striped top, and matching hair ribbons, her cheerleader outfit is perfectly coordinated.
Made out of weighted cloth and vinyl limbs, this doll is weighted with beads to weigh the same amount as a real baby. Scented with a baby powder scent, you will love holding this doll.
Do you like dolls with attitude? Wearing her leopard-print jumpsuit with red piping, this brown-eyed toddler doll has the spunk you are looking for. Polishing off her dress is a black long-sleeved shirt and a leopard-print bow in her hair. To match her top, she wears black booties. The most adorable addition to her entire look is her appliqued paw print pockets.
Is winter your favorite season? Ready for a snowy adventure, this cute little tyke is ready to accompany you on your winter vacation. Lavender is her color of choice, which is evident in her hat, scarf, jacket, and boots. Like Elizabeth Taylor, this little girl also has beautiful lavender eyes.
So far, we've highlighted a few of the girl Adora dolls, but this brand also features plenty of boy dolls, including Bubba Bear. Wearing a fuzzy gray sweater with a bear image, a matching gray baseball hat, and black and white cross-patterned pants, this guy can really put together an outfit.
Weighted to feel like a real toddler and scented with a baby powder fragrance, you will love holding this doll. With a moveable head, arms, and legs, this guy is ready to play.
Are you interested in our Adora dolls? Check out our collectible doll brands at Samantha's Collectible Dolls & Bears today. Our doll store online features a wide selection of unique dolls that collectors love.